Wednesday, May 12, 2004
Rock 'n' Roll, Politics and the U.S. Government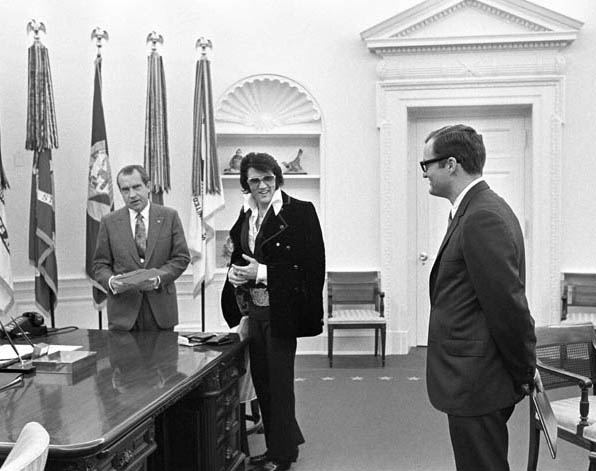 I haven't done much blogging lately, as I've had more pressing needs these days.
A few days ago, my friend Veralynne of
A-Changin' Times
alerted me to a recent book titled "We All Want to Change the World: Rock and Politics from Elvis to Eminem" written by Tom Waldman and Donovan Leitch, aka Mr. "Sunshine Superman." This sounds like an interesting book. I certainly love the title. If anyone wants to send me a copy, I'll be happy to read it.
Today, I stumbled across a page that provides government documentation on the rock music that was played during the forced removal of
General Manuel Noriega
from Panama in 1989. I was actually surprised by the choice of music that was played. A lot of this music was stuff I really enjoy like the Beatles, XTC, Todd Rundgren, Allman Brothers, and Bobby Fuller. I figured they really wanted to drive Noriega nuts, they could have played things like "Achy Breaky Heart" or "Hotel California." As I am producing the ultimate LOUIE LOUIE documentary, it would have been interesting if the Kingsmen's iconic hit was included on this list, as I would have had yet another story to tell. Anyways, check out this link:
http://www.gwu.edu/~nsarchiv/nsa/DOCUMENT/950206.htm
From the same webpage, I found another rock and roll government link- an article that documented the meeting between
Elvis Presley
and
Richard Nixon
. This webpage actually provides a link that shows what looks like it's the entire series of photos from that legendary meeting.
http://www.gwu.edu/~nsarchiv/nsa/elvis/test.htm
Loudon Wainwright III
is an underrated talent that folks will either be remembered as the author of "Dead Skunk in the Middle of the Road" or the father of Rufus Wainwright. He's released quite a bit of great music over the years, and he just wrote a new song called "Presidents' Day" that I love. He's got one stanza in particular that puts a big smile on my face:
George was the first one - Abe was the best
Libraries and airports named after the rest
But this year I'm queasy about Presidents' Day
For there's been more than one George I'm sorry to say
Want to hear this song? You don't need to buy it at iTunes, Rhapsody, or any other online music service. You can hear for
FREE
at Loudon's own official website.
http://lwiii.com/lwpresidentsday.html
If you like this music, buy some Loudon Wainwright III CDs, or catch him in concert. Support music you like. Use the power of your wallet.
E.P. Wednesday, May 12, 2004