Thursday, December 04, 2003
GOOGLE this "Miserable Failure"
Type in "miserable failure" with GOOGLE, and what do you get?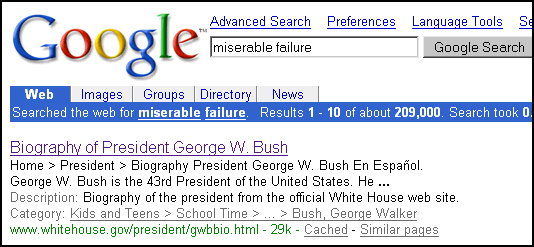 The folks at Blah3.com explain:
"I'm taking part in a new web project... From this day forth, I will refer to George W. Bush as a Miserable Failure at least once a day. Why, you ask? Well, someone came up with this great idea to link George W. Bush and Miserable Failure in popular search engines. If you have a blog or web site, help raise the link between George W. Bush and the phrase '
miserable failure
' by copying this link and placing somewhere on your site or blog."
http://www.blah3.com/graymatter/archives/00000654.html
* * * * * * * * * * * *
E.P. Thursday, December 04, 2003