Tuesday, October 14, 2003
Chimpanzee expert Jane Goodall labels Bush's environmental record "Terrifying"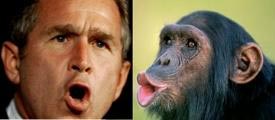 Last weekend, noted scientist Jane Goodall paid a visit to the San Francisco bay to discuss the dangers of the Bush administration. On Saturday, she made these statements at the keynote speech at the second annual Wildlife Conservation Expo at Foothill College in Los Altos Hills:
"What the Bush administration has done over the past three years to overturn environmental laws is unbelievable. It's shameful. We must not sit still and do nothing."
An article in the Sunday San Jose Mercury provided a good overview:
Goodall is widely known for her studies at the Gombe Stream Chimpanzee Reserve that became the basis for primatological research and redefined the relationship between animals and humans.

In 1977 she established the Jane Goodall Institute, and now she travels around the world to speak of threats to the chimpanzees and other environmental issues. She was recently named a United Nations Messenger of Peace.

Goodall said she is especially angered by a Bush administration proposal to interpret the Endangered Species Act in a radical way to allow hunters, circuses and the pet industry to kill, capture and import animals that are on the brink of extinction in other countries.

This runs counter to the course followed since President Nixon signed the act in 1973. The original law prohibits importing endangered animals or their parts into the country.

The Bush administration is now arguing for a change, seeking to allow U.S. interests to pay poor countries to take fixed numbers of endangered animals and fund conservation programs for animals that remain.

"This will mean it's going to be possible to shoot any of the endangered animals and just say the money goes to conservation,'' Goodall said. `"It stinks, quite honestly.''
The next day, Ms. Goodall also spoke out at the San Francisco's Episcopal Grace Cathedral, which was written up in the San Francisco Chronicle.
"When I start talking about the long list of reversals of legislation that the Bush administration has introduced over the last three years, it's terrifying."

She cited an effort by the White House to amend the 1973 Endangered Species Act so U.S. companies can import a certain number of endangered animals if they compensate the animals' native countries with money for conservation programs. Currently, such animals can't be imported into the United States.

Goodall said she believes circus owners and other businesses that use animals for entertainment or research are responsible for the proposed change.

"Obviously, they have lobbied someone in the administration to introduce this terrible bill," Goodall said. "We mustn't let it happen."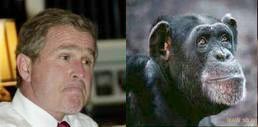 The entire articles can be found at:
Primate expert blasts Bush
White House Policy Bad For Apes, She Says
San Jose Mercury News, October 12, 2003
http://www.bayarea.com/mld/mercurynews/news/local/6996221.htm
Primate expert calls Bush's environmental record "terrifying''
Associated Press / San Francisco Chronicle, October 12, 2003
http://www.sfgate.com/cgi-bin/article.cgi?f=/news/archive/2003/10/12/state1705EDT0044.DTL.
The photographs for this blog were provided by the BushOrChimp.com webpage, which notes that some viewers have complained that it is cruel to compare the chimps to George W. Bush.
Be sure to check out more of these entertaining images at:
http://www.bushorchimp.com/
For more information on the Jane Goodall Institute, got to:
http://www.janegoodall.org/
* * * * * * * * * * * *
E.P. Tuesday, October 14, 2003