Friday, September 26, 2003
Telemarketing Madness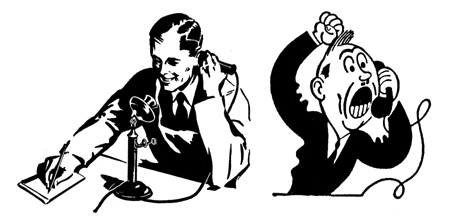 In today's Los Angeles Times, there was an interesting article:
Another Hang-Up for 'Do Not Call'
A Denver judge, ruling that the phone registry violates telemarketers' free-speech rights, hands the industry its second legal victory this week.
By Jube Shiver Jr.

WASHINGTON - Minutes after both houses of Congress concluded a remarkable scramble Thursday to make a popular "do-not-call" registry pass muster with a federal judge, a second jurist ruled that the program had deeper problems: It violated telemarketers' 1st Amendment rights.

The ruling by U.S. District Judge Edward W. Nottingham in Denver handed the telemarketing industry its second legal victory this week and put in doubt the future of the Federal Trade Commission's national registry.

Although Nottingham's ruling is certain to be appealed, legal experts said that at the very least it would delay implementation of the program, which was scheduled to start Wednesday. The judge ruled that the registry violated the free-speech rights of telemarketers because it barred them but not charities, pollsters or political campaigns from making unsolicited calls.

"We are not looking to ignore the wishes of consumers," said Direct Marketing Assn. President H. Robert Wientzen.

Nottingham's 34-page ruling came shortly after the House and Senate voted overwhelmingly for a bill that made clear that the FTC had the power to establish and maintain its do-not-call list. The legislation, introduced and passed within a few hours Thursday afternoon, was in reaction to a decision by U.S. District Judge Lee R. West in Oklahoma City, who ruled Tuesday that the FTC exceeded its authority in setting up the registry.

The House voted 412 to 8 and the Senate 95 to 0 for a terse, one-page bill authorizing the FTC's do-not-call list. In a statement, President Bush said he looked forward to signing it. "Unwanted telemarketing calls are intrusive, annoying and all too common," he said.

Under the FTC rules, telemarketers risk a fine of $11,000 each time they call a number on the list.

Frustration with the legal delays was evident across the country. Late-night TV talk show host Jay Leno joked about the Oklahoma ruling during his monologue Wednesday. "The judge says the telemarketers can call you whenever they want," Leno said. "You know what we should do? Let's all call this judge tonight at home during dinner."

Egged on by radio hosts, thousands of people took Leno's gag seriously and flooded the Oklahoma City federal courthouse with calls.

"We've probably received thousands of phone calls," court clerk Robert Dennis said. "We've tried to conduct business as normal. But our phones have been pretty tied up at times.... Most of the calls were people who wanted to express their dissatisfaction with the ruling."

Lawmakers had hoped their rapid response to the Oklahoma ruling would quickly restore the FTC's power to implement a do-not-call list.

"We should probably call the bill the 'This Time We Really Mean It Act,' " said Rep. W.J. "Billy" Tauzin (R-La.). "This bill leaves no doubt as to the intent of Congress."

Nonetheless, West denied a request from the FTC to stay his order, pending appeal. But the judge said his order would not block any existing state do-not-call registries or "company-specific do-not-call" lists.
the rest of the article continues at...
http://www.latimes.com/business/la-fi-donotcall26sep26,1,4461078.story?coll=la-home-headlines
Just for fun, I decided to see if I could use GOOGLE to find the phone numbers for these two judges.
For "
Lee R. West
," I found:
http://www.okwd.uscourts.gov/west.htm
The Honorable Lee R. West
Senior United States District Judge
Western District of Oklahoma
U.S. Courthouse
200 N.W. Fourth St. Oklahoma City, OK 73102
Rm 3001, Courtroom 303, Third Floor
Chambers Telephone: 405-609-5140
Chambers Facsimile: 405-609-5151
The GOOGLE search also provided
two different home phone numbers
for "
Lee R West Oklahoma
." I wonder if Lee R. West of Oklahoma lives in either Edmond or Vinita?
For "
Edward W. Nottingham
," I found:
http://www.law.du.edu/judicial_clerkships/USEdwardNottingham.html
.
District Judge Edward W. Nottingham
United States District Court
U.S. Court House
901 - 19th St.
Denver, CO 80294-3589
Phone: 303.844.5018
Fax: 303.335.2155
The GOOGLE search for "
Edward Nottingham Colorado
" provided the same phone number, but another address. I wonder if that's his home?
I fully support "responsible use of the first amendment!"
* * * * * * * * * *
E.P. Friday, September 26, 2003